Test variants of your content with our experiments feature.*
Learn more about what works for your audience by testing two or more variations of your content in an experiment. This article explains how to set up and manage experiments.
How do I add an experiment to my Experience?
1. Sign in to your mtribes account and open the Experiences page
You'll find the Experiences page in the left-hand side panel.
2. Open a Collection to edit
Locate the Collection associated with your Experience. This is where you can create, edit and start experiments. If you don't see any Collections, go back to Templates and create your Experience and Collection templates first.
3. Add and name your experiment
Click the + Scenario button and select Experiment. Giving your experiment a relevant name will make it easier for you and your teammates to reach meaningful conclusions with the results at a later time.
If in doubt of whether you should add an experiment or a Scenario to your experiment, learn more about experiments.
How do I set up my experiment?
1. Configure Activity tab
Select Edit variants to add and configure variants for your experiment. For example; to optimize your sign-up flow, you may create variants to test different colored sign-up CTAs.
Next, choose an event. This metric will be used to measure the success of each variant. It can be changed at any time without causing the experiment to end. In our example, you could select Clicked.
2. Configure Targeting tab
Add Tribes that will be served your experiment variant.
Determine variant allocation. The variant allocation must total 100% of the selected audience.
Configure a start and end date/time for your experiment. For a single occurrence, specify a schedule start and end. For a repeating cadence, set up a recurring schedule. Note: If you've set up a schedule, your audience will only be served your experiment between schedule start and schedule end, and if the Experiment is running.
3. Select Start experiment.
Once your experiment has started you won't be able to edit it without ending it first.
4. Publish your experiment so your audience can view latest changes.
After you've started your experiment, you'll be able to view and track how your audience interacts with variants from the Activity tab. Experiments display data from the last 30 days. Following this period, per GDPR rules, we discard your user data.
You can choose to end your experiment at any time. Continue reading to learn what you can do after you've ended your experiment.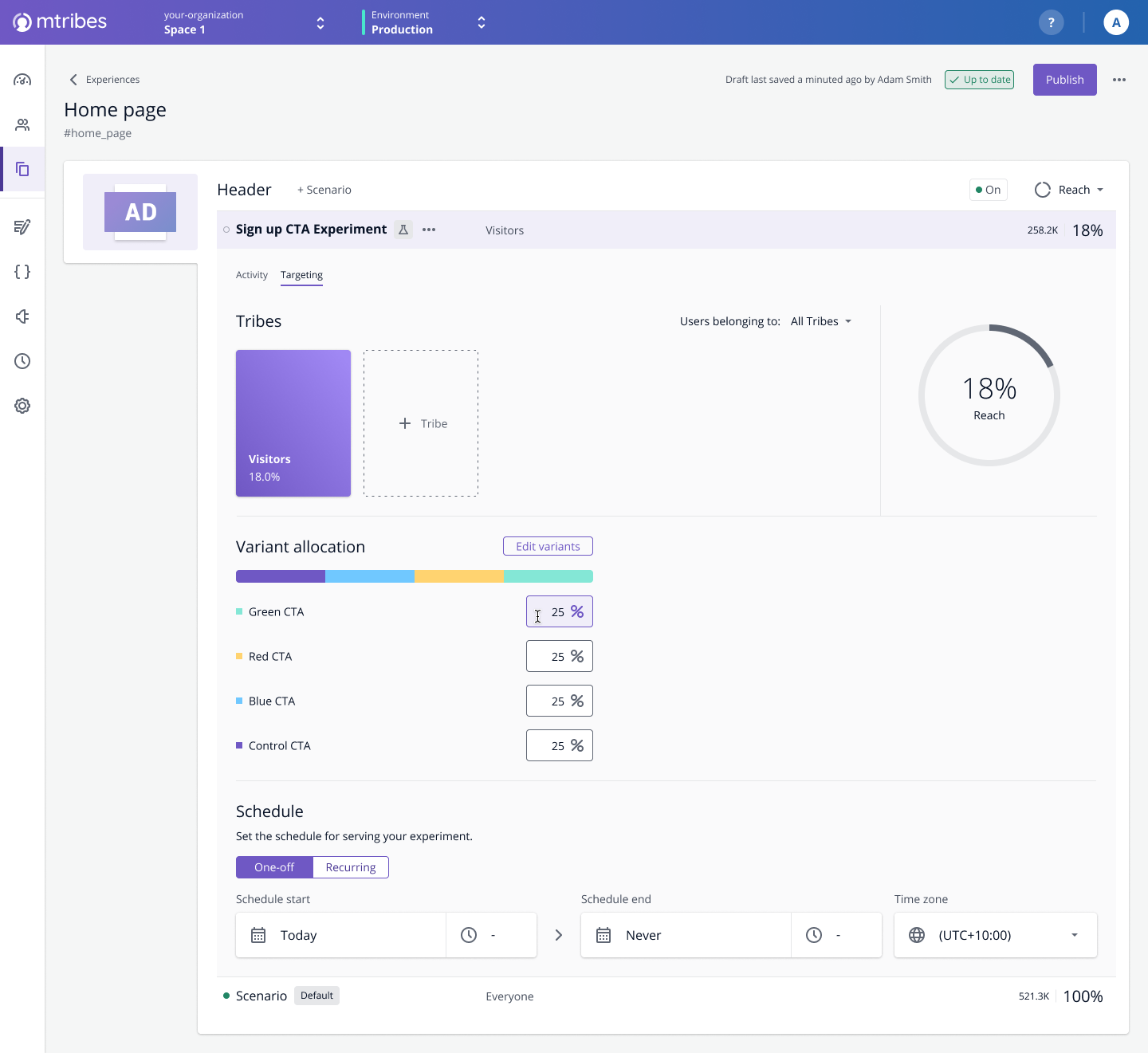 What have I learned from my experiment?
After you've had your experiment running for enough time to identify how your audience interact with your variants, you can choose to end your experiment.
You may decide to duplicate a successful experiment variant as a Scenario. In our example, if a blue sign-up CTA had recorded the highest success rate, you may choose to serve a blue CTA to your entire audience.
What to read next?
Learn about our suggested best practices to get the most out of your experiment so that you can optimize based on your findings.