Serve personalized Experiences to your audience by scheduling different Scenarios.*
Make sure you're serving the right content to the right audience at the right time. This article explains how you can do this by scheduling Scenarios to personalize Experiences.
What is a Scenario?
A Scenario is an Experience that has been configured for a specific audience Tribe and/or scheduled for a particular date/time. Scenarios can be set up for a single occurrence i.e., between October and November, or can occur on a recurring schedule i.e., every weeknight from 6-8 pm. Activity or custom events can be tracked so you can adjust according to performance.
How do I add, edit and schedule Scenarios?
1. Sign in and open the Experiences page
Sign in to your mtribes account and select a Space to work in. Open the Experiences page using the vertical navigation on the left-hand side of the screen. On opening, you'll find all the Collections that were created in the Template stage. If you don't see any Collections, go back to Templates and create your Experience and Collection templates first.
2. Open a Collection to edit
Select a Collection and click to open the page, where you'll find all the Experiences that belong to this Collection. This is where you add, edit, and schedule Scenarios for each Experience.
3. Add variants to a Collection
Choose to add variants of this Collection here, perhaps for different languages, devices, or campaigns. Target and schedule these Collections and edit the Experiences underneath, independently of each other.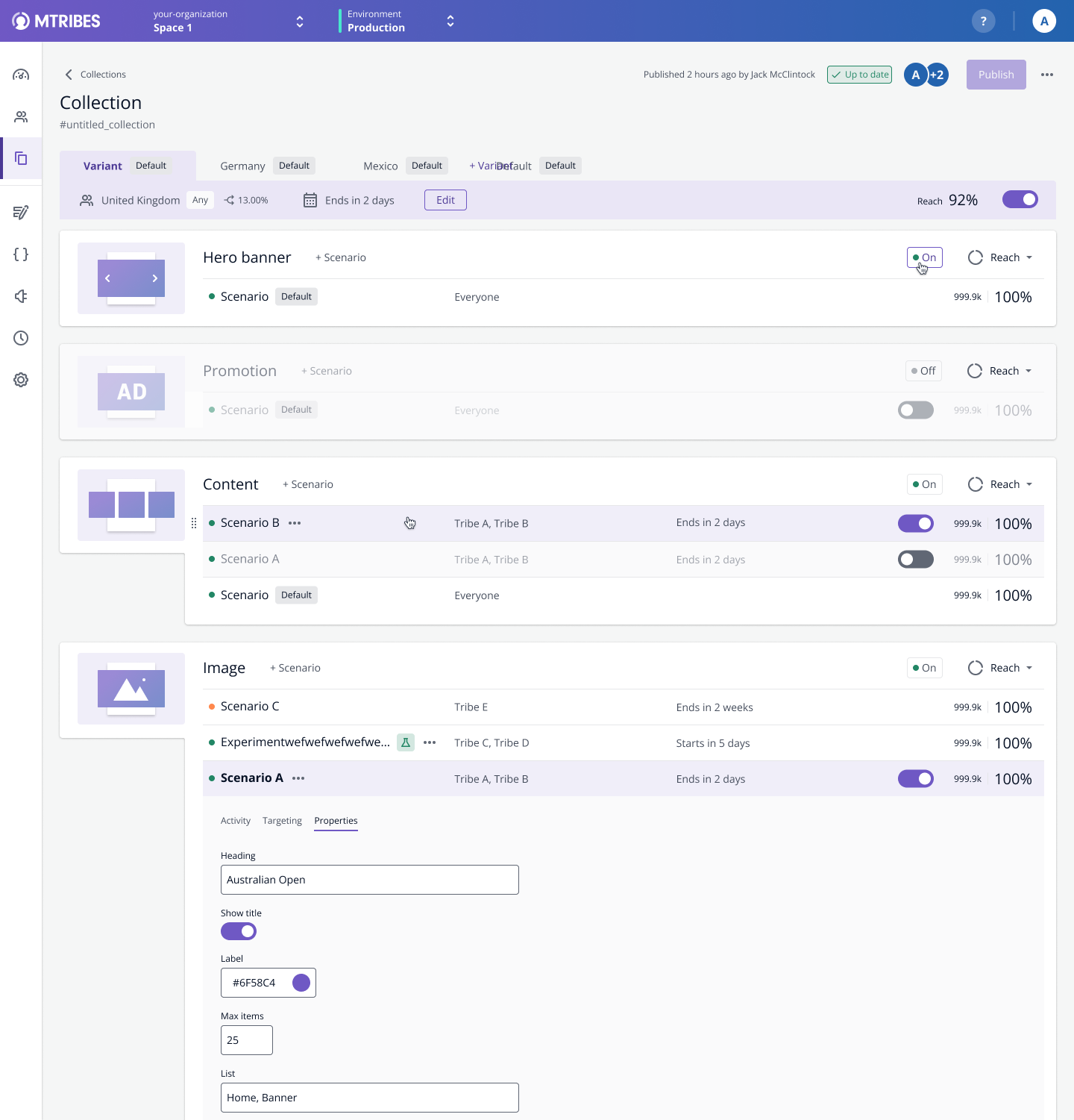 4. Add or edit a Scenario
A default Scenario exists for each Experience. This is the default state of the Experience that is served to your entire audience unless you add another Scenario.
To add one, click + Scenario and give it a name. The Scenario details card contains three tabs:
Activity – where you can view and track activity metrics and insights once your Scenario is active, including 'Tribe of the week'.
Targeting – add Tribes, or email addresses if targeting specific individuals, determine traffic allocation, and configure a start and end date/time for each Scenario. For a single occurrence specify a schedule start and end. For a repeating cadence, set up a recurring schedule (5 recurrences per Scenario).
Properties - this is where you can view and customize the properties of the configured Experience to personalize each Scenario.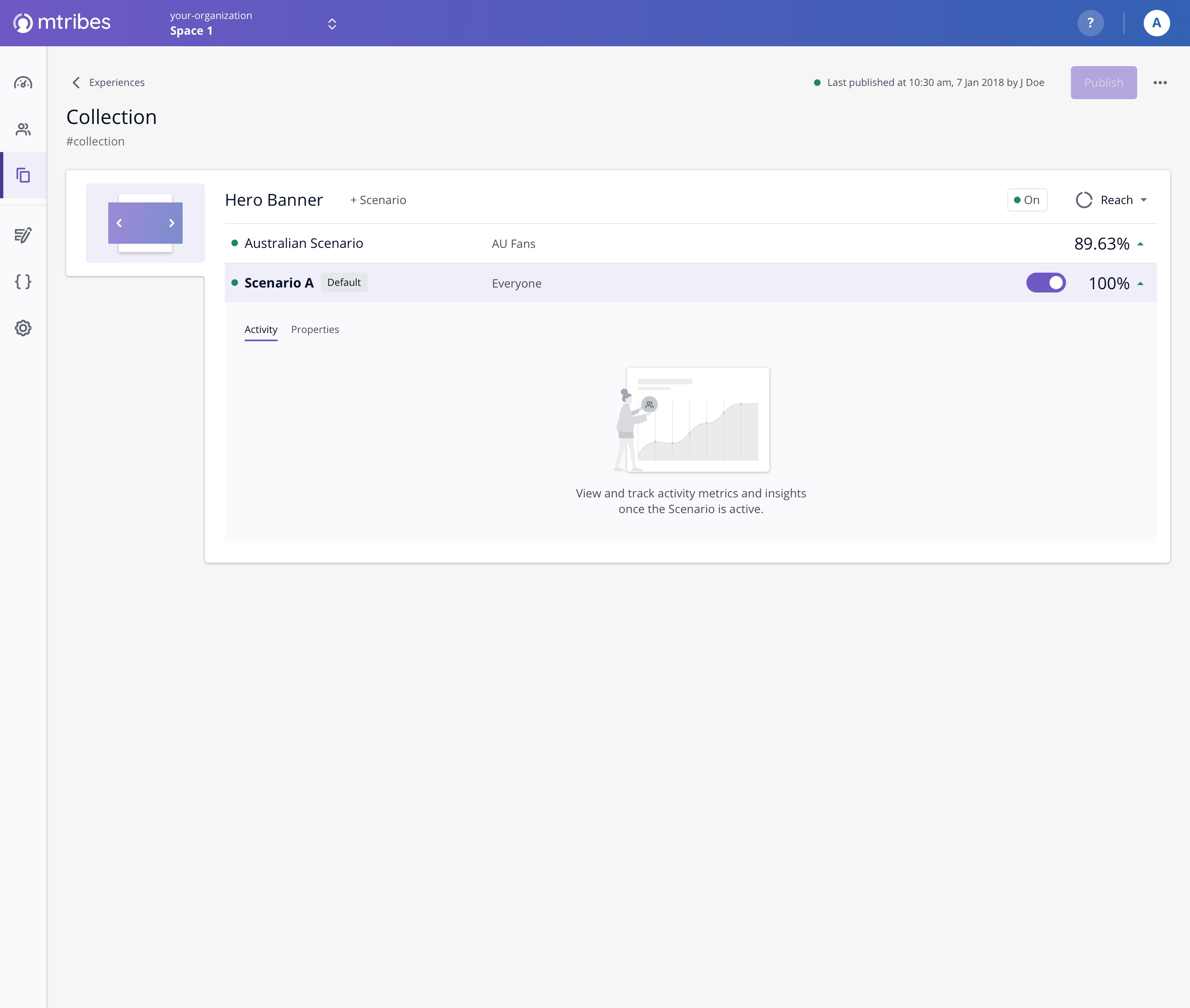 5. Turn Scenarios on or off
You can turn each Scenario on or off using the On/Off toggle found on the right-hand side of the page. It's important to note that Scenarios are always served in a top-to-bottom sequence - where default is always served last.
If you turn all your Scenarios off including the default, the fallback state will be served since the parent Experience is on. The fallback state is the original version of the Experience that you set up in the templating stage.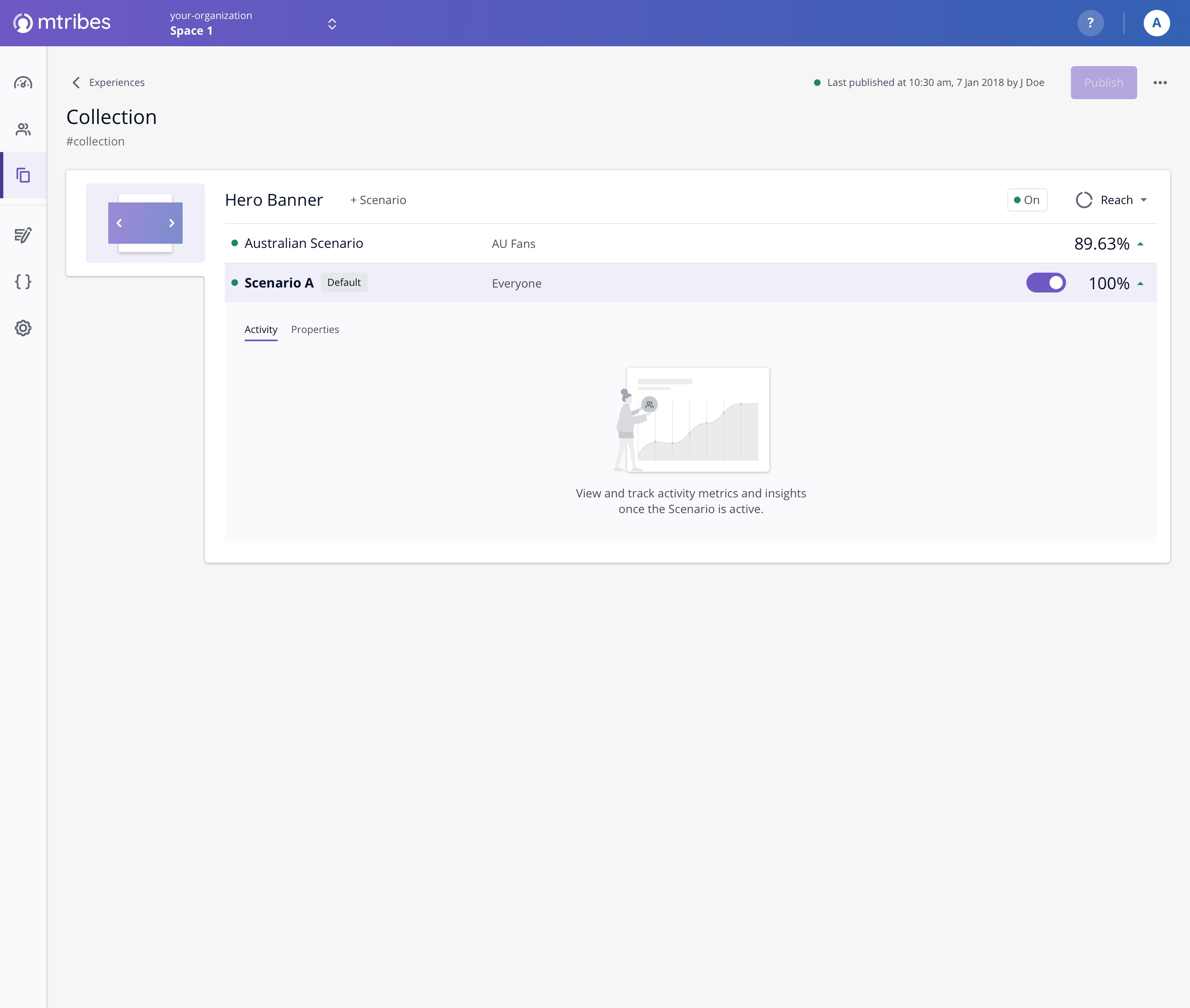 Experiments
Alternatively, you may choose to add an experiment to your Experience to test out two or more variants and learn what works best. For example, if you want to improve your sign-up flow, you may choose to test different colored sign-up CTAs.