We talk conversion funnels with a UX/UI Designer.*
An efficient conversion funnel allows you to understand more about how your audience move throughout your product, platform, or app. By creating a conversion funnel and setting it up, you can gain insight into the user flows that are functioning effectively, and those that require more attention. This information is incredibly helpful if you're looking to optimize marketing efforts, increase conversions, or validate a user journey.
We've recently added a conversion funnel to our platform, and in this article, we take a deep dive into the feature from a design perspective.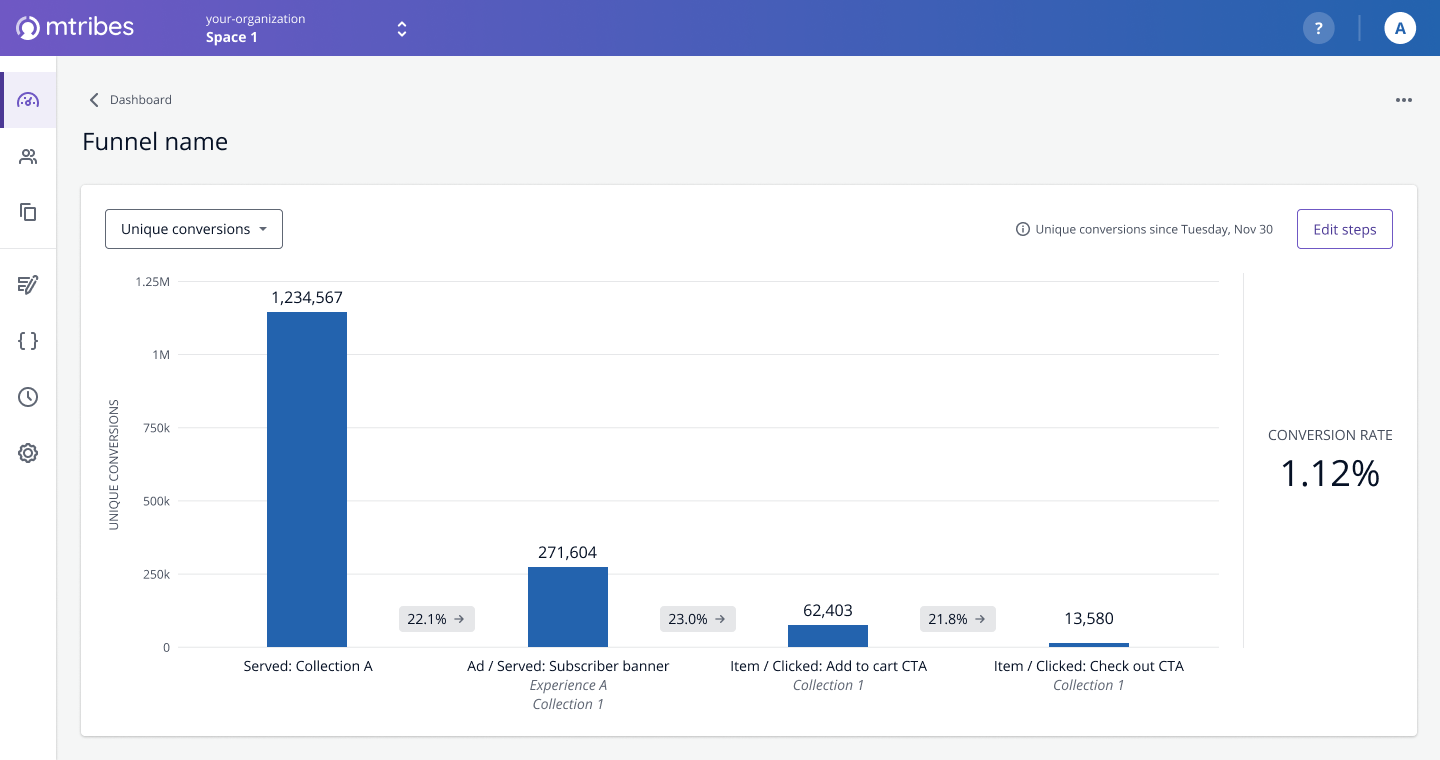 How mtribes approached a conversion funnel
We collaborated with Will Jarman, UX/UI Designer at mtribes, to explore how he designed our take of a well-known feature. He shared how his solution builds on the existing strength of the mtribes user interface, empowers the non-developer, and gave us some insight into what it's like designing a complicated feature.
Building on the strength of mtribes
Designed to be compatible with the existing templates system, each step in your funnel can be a Collection, Experience, or a Scenario. This caters to the level of granularity that suits your use case. This means you can set up your funnel to follow a major user journey, or delve into the detail of a particular interaction.
Will believes this flexibility is an advantage of our conversion funnel. "Where mtribes stands out, is that you can set it up to view conversions right down to the component level, even by the component variant."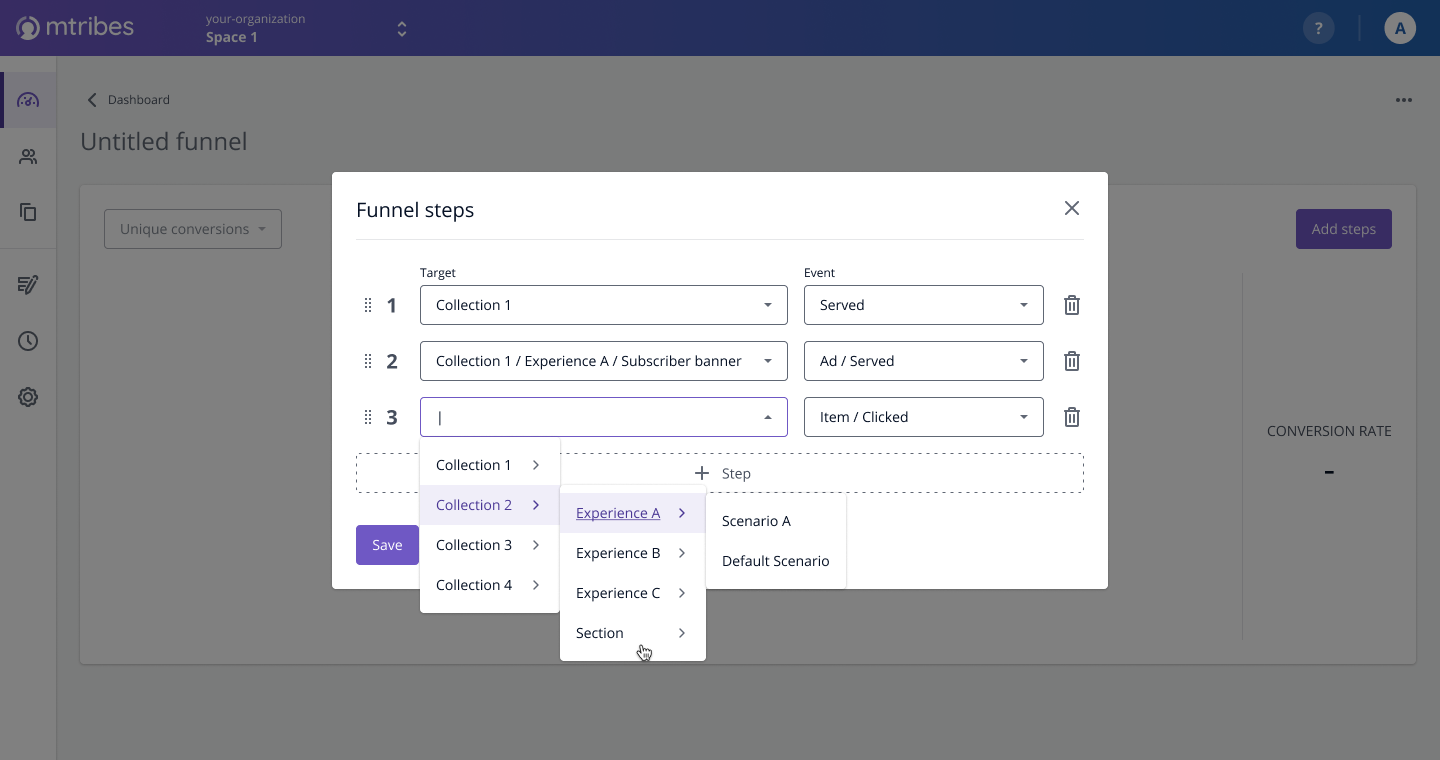 Broadening the picture
The mtribes platform proudly empowers the non-developer to make key UX/UI decisions for their product, platform, or service. It was essential our conversion funnel feature did the same. By creating a funnel with your existing Collections, Experiences or Scenarios, you can get a bigger picture understanding of existing activity metrics in a visual and data-friendly way.
Will shares how our take on a conversion funnel provides a fuller story of audience engagement without the heavy metrics: "The main benefit our conversion funnels feature provides, is the ability to see how users convert across an entire flow, where previously you could only view data per Scenario."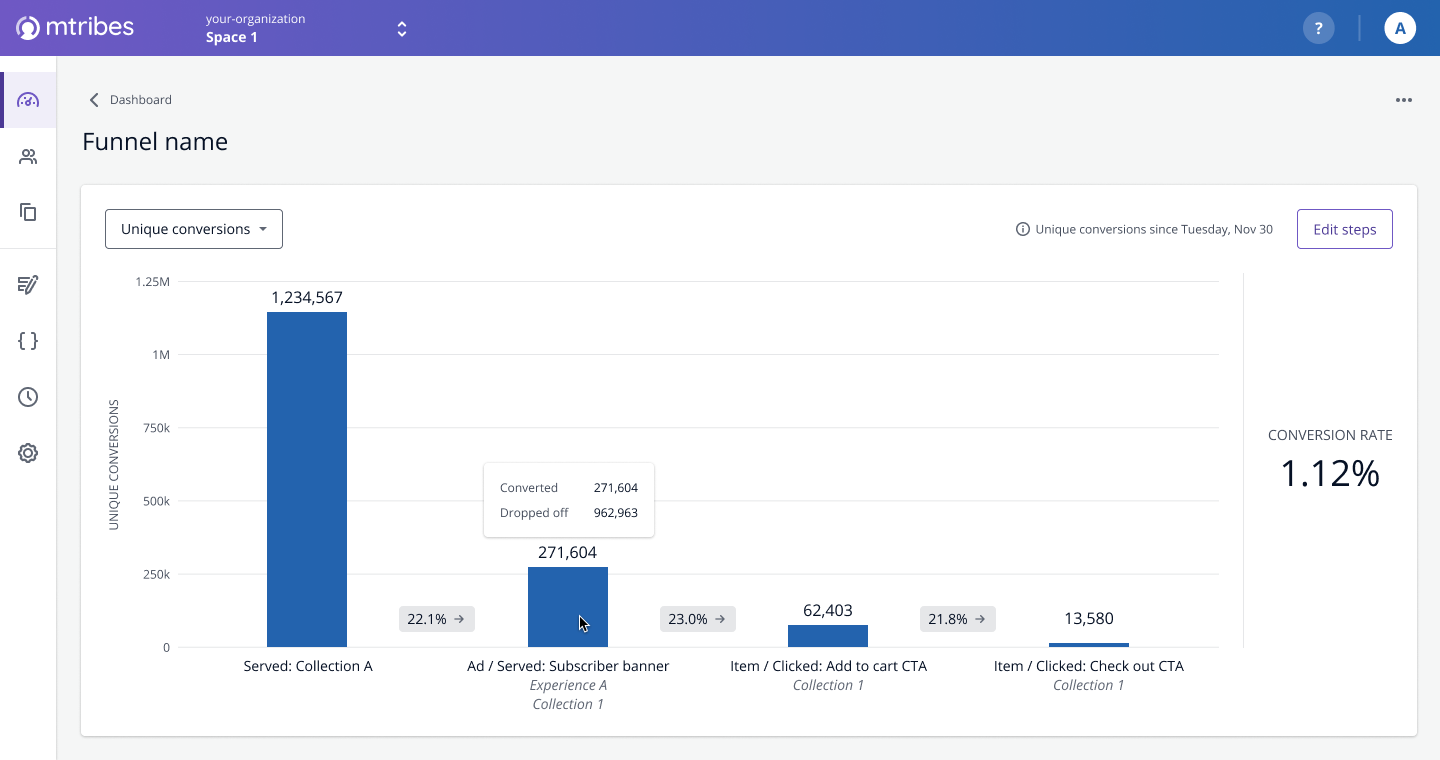 Game, set, design
A diligent design process is essential to building a successful feature. For Will, this meant researching other conversion funnels, exploring multiple concepts, and validating his design decisions with wider team collaboration.
Research
The challenge in designing a well-known feature is creating an offering not already created by your competitors. However, Will believes without exploring the options that already exist, "you don't get a good idea of what users' needs and expectations are from a feature."
Iterate
Thoroughly investigating potential approaches meant Will could confidently settle on a final design, "you need to explore multiple iterations to a design solution in order to see what works and what doesn't".
Validate
Close collaboration with the wider team ensured our conversion funnel functions effectively, supported by a strong technical architecture. Will said, "chances are you're not going to be an expert in the feature you're about to design, but other people are. It's about tapping into other peoples' knowledge".
Will sums up what it's like to design a well-known feature:
"There's no need to reinvent the wheel; chances are the feature you're designing has been done before, especially in the CMS and analytics world."
Designing an effective feature is about being aware of the needs of your audience and prioritizing your platform's capabilities.