Setting up your first Space on mtribes? Read this first.*
This article discovers what a Space is, and how to set up your first Space on mtribes.
What's a Space on mtribes?
A Space is a self-contained project or workspace. Each Space has its own configuration, content, user base, and dashboard. Creating Spaces is the perfect way to organize your company on mtribes - into brands, products, departments, channels or platforms, etc.
How do I create my first Space?
1. Sign in to mtribes and select your organization
Sign in to your mtribes account. If your business has one organization, you'll automatically be invited to create your first Space. If your business has multiple organizations, open the user menu located on the navigation bar, and switch to the appropriate organization.



2. Name your Space
What do you want to call your Space? We suggest naming it something obvious that represents the brand, product, department, or platform you're working on.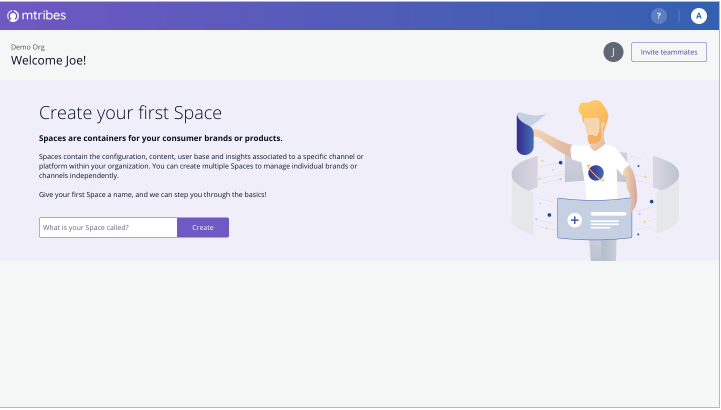 3. Hit the Create button
Now go ahead and hit the Create button. That's it. You've just created your first Space on mtribes. Your Space dashboard will automatically open up. This is the control panel for configuring your Space.
Next - Your Space dashboard