Learn how to extend and expand the capability of mtribes with plugins.*
Plugins extend the capability of mtribes. In this article, we look at how to add one to your Space.
Why would I install a plugin?
By adding a plugin to your Space, you're able to introduce the capability of that plugin to mtribes.
Currently, we offer AXIS (UX management platform) and FORGE (content platform) plugins that allow you to preview and schedule AXIS and FORGE content when targeting. This additional layer of visualization can improve your scheduling experience.
How do I add a plugin?
Sign in to your mtribes account and go to the Plugin section in the left-hand side panel. Before you've added any plugins to your Space, available plugins will be labeled Available.
Install a plugin
Select Install from a plugin card or from the plugin details page.

Enter the base API URL for your plugin remote service.

Once the plugin has installed either select Done, or Create an Experience template to be taken to your Experience templates.
To preview and schedule AXIS and FORGE content, you'll need to configure a plugin element within an Experience template.
Manage my plugins
Once you've installed a plugin, you can edit the base API URL of the remote service or choose to uninstall it.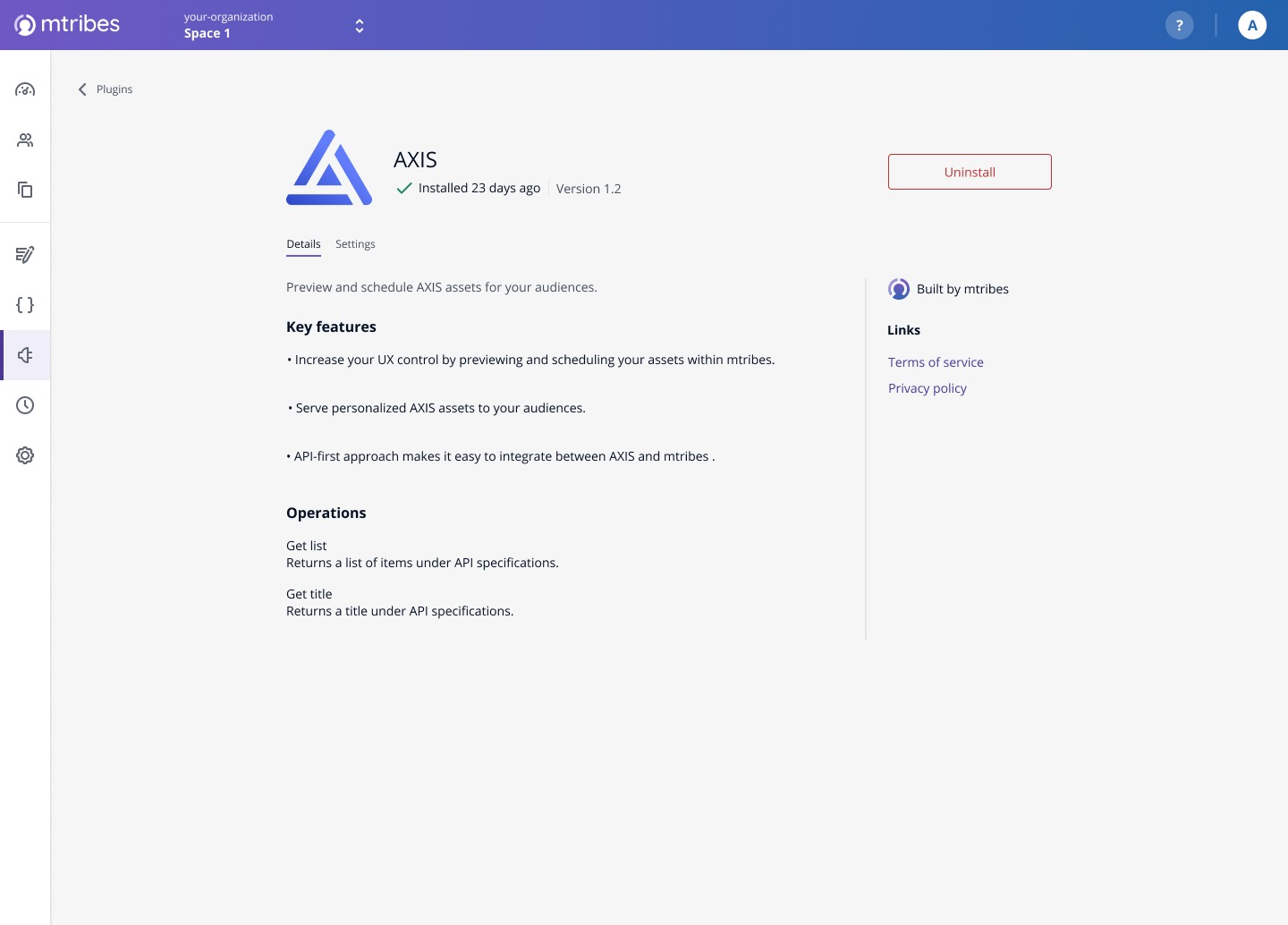 How do I uninstall a plugin?
Choosing to uninstall a plugin will remove it from your Space and may affect any Experiences using plugin elements.
Uninstall a plugin
Select Uninstall from a plugin card or from the plugin details page.

Confirm uninstallation in the modal that pops up.
What to read next?
Learn how to preview and schedule your AXIS and FORGE content in an Experience template.